The Forest Forum is an innovative form of therapy for the aged, in that it is an effort to assist people in getting out into the environment and feel a sense of nature and community, through the help of medical professionals and environmental educators.
2. The Forest Interpreter's Leadership Development Course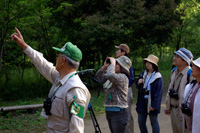 The Forest Interpreter's Leadership Development Course is essential for helping environmental educators learn to convey the messages and importance of nature based on personal experience, and to communicate in an understandable way. The course was run 3 times from 2005 until 2007 and trained a total of 56 people. (2005: 25 participants, 2007: 15, 2008: 16.)
3. The "Forest School" begins with diverse organizational action support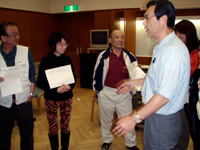 The Forest School is comprised of the "30th Century Forestry Forum," the "Permaculture School," meant to train environmental leaders as a citizens' environmental education deepening effort. In addition to being an environmental education project for citizens' groups, it also serves as investigative support.
4. Kyushu Childrens' Firefly Ranger Summit
The Kyushu Childrens' Firefly Ranger Summit is a gathering as part of the Ministry of Environment's "Firefly Ranger" organization, to create a platform for young Rangers to meet and exchange, to present actions, and for implementing environmental preservation activities. At the most recent Summit, we had 67 participants from every prefecture in Kyushu.
5. Activities with support from businesses
Cooperation was established between citizens and private enterprise for the 30th Century Forest Creation. Thanks to this collaborative support, Yamada Green Zone is able to engage in activities for the long term. Zenrin Corporation has contributed financial assistance since 2005.